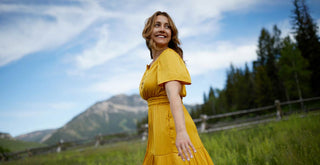 Meet our founder, Kendra Kolb Butler
A BACKGROUND IN CLINICAL SKINCARE. A BACKYARD FULL OF POSSIBILITIES.
A move from New York City to Jackson Hole, WY, to open a beauty apothecary uprooted everything Kendra Kolb Butler knew from her 20-year career in clinical skincare. Even the most high performance formulas— packed with clinically-proven ingredients—were no match for her clients' high-altitude skin concerns, most notably extreme dryness. Kendra was determined to find a solution.
It turns out, the solution was growing right in her backyard: Wyoming wild plants with amazing survival instincts that have thrived for thousands of years despite the relentless climate. These wild plants intuitively know how to bank moisture, concentrate nutrients and optimize life force. Their survivalist lifestyle inspired Kendra to infuse them into skincare formulas.
Alpyn Beauty is the first skincare brand to sustainably hand-harvested wild plants at their peak potency and punctuate their power with proven clinical actives. This wild-meets-clinical combination amplifies results and solves skin challenges at the deepest level.
Where Wild Meets Clinical
Wild plants are at the heart of every formula. Then we punctuate their power with clinically proven actives to amplify your results.
Wild
Plants
Wild plants sustainably hand-harvested from our backyard. Full of resilience and loaded with life force—they do great things for your skin.
Arnica
Contains sesquiterpene lactone and flavonoids to nourish skin.
Chamomile
Brightens and improves the appearance of skin.
Sage
Reduces the appearance of wrinkles, fine lines and age spots.
Borage
Promotes balanced moisture and leaves skin feeling firm and refreshed.
Chokecherry
A powerful antioxidant that tightens the look of skin.
Wild Nettle
Nourishes, hydrates, and addresses excess oil.
Calendula
Nourishes dry, damaged skin.
Juneberry
Antioxidant-packed super berry softens and smooths.
Willow Bark
Exfoliates, smooths and softens.
Clinical
Actives
Behind every wild plant is a high-performance clinical active to help solve your individual skin challenges.
Bakuchiol
Plant-based alternative to retinol that smooths lines and wrinkles.
Peptides
Support the production of collagen from smoother-looking skin.
Squalane
Improves hydration and prevents moisture loss.
Ceramides
Support skin barrier health by retaining essential moisture.
Rambutan
Plant-based alternative to retinol that visibly firms and plumps.
Vitamin C
Potent antioxidant that promotes collagen and brightens tone.
Hyaluronic Acid
Binds and retains moisture for long-lasting hydration.
Salicylic Acid
Derived from willow bark, it exfoliates, smooths and softens.
Vitamin E
Powerful antioxidant that soothes, softens and supports skin's moisture barrier.
Niacinamide
Minimizes the look of pores and dark spots for smoother-looking texture and tone.
No
Thank You
It's our commitment to you and the environment. All Alpyn products are always free of:
Animal Origin or Testing / DEAs / MEAs / TEAs / '-eths' / Formaldehyde / Donors / Metallic Aluminum / Mineral Oil / Palm Oil / Parabens / PEG's Petrolatum / Phenoxyethanol / Phthalates / PPG's / Sulfates / Synthetic Dyes Colors Fragrance / Talc / Triclosan
Our
Partnership
With Nature
Doesn't Stop
At Skin
Sustainability is baked into our DNA. From how we harvest our wild plants to who we partner with, everything we do must have a direct and positive impact on the environment—and your skin.
Responsible
Harvesting
Reforestation & Rewilding
We donate a portion of every purchase to the Grand Teton National Park Foundation's rewilding efforts, which includes restoring over 5000 acres of native grassland that's vital for the diversity and abundance of plants and wildlife species like elk, bison and moose. So far, our contribution has helped rewild over 1000 acres.
Wildcrafting
Wildcrafting is the practice of harvesting plants from their natural, or wild, habitat. When done sustainably and with respect, only the fruit, flowers or branches are carefully removed, and the living plant is left healthy and intact.
Circular Harvesting
We replace what we remove by a low impact, circular process we call circular harvesting. This process ensures that any unused ingredients are returned to the earth, often to the exact place where they were harvested, to compost.
Sustainable
Partnerships
Grand Teton
National Park
We donate a portion of every purchase to the Foundation's rewilding efforts, which includes rewilding over 5000 acres of native grassland that's vital for the diversity and abundance of plants and wildlife species like elk, bison and moose. So far, our contribution has helped rewild over 1000 acres.
1% For The Planet
As a proud member of 1% for the Planet, we're committed to giving back 1% of all sales to environmental causes.
re

Purpose

We're the first beauty company to partner with rePurpose Global to fund the collection, processing and reuse of an equivalent amount of ocean-bound plastic waste to its footprint. By making this bold commitment, every Alpyn Beauty purchase now carries a Net Zero Plastic Footprint.
Pact Collective Recycling
Pact works with the goal of recycling hard-to-recycle packaging. We invite US and Canadian customers to join the Mail Back Collective Program to help us keep packaging from landfills or making its way into the ocean.
Leaping Bunny
We are proud to be Leaping Bunny certified, which means all stages of product development are verified cruelty free.

We're on a mission to change the beauty landscape, and the earth, for the better. That's why we're thrilled to announce our latest badge of honor from Sephora.
What it means to be Clean + Planet Positive:
Climate Commitment
Sustainable Sourcing
Responsible Packaging
Environmental Giving